Young Horse Trainer/Breeding Manager/Equine Care Manager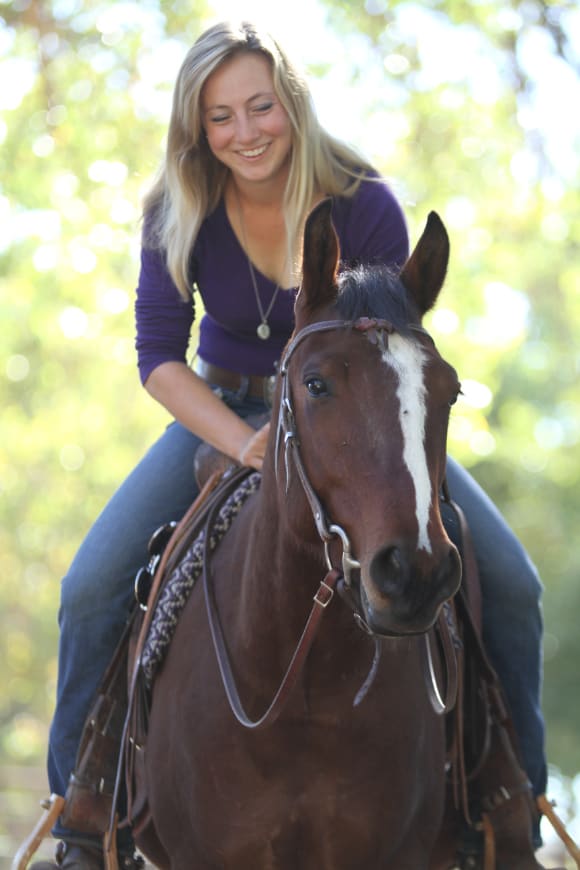 A young horse's foundation is one of the most important factors in determining his future success, and Taylor Randall's passion is building that foundation. Taylor has had a fascination with horses and their behavior since she was young. In addition to weekly lessons, she took every opportunity to learn about horses and their care and management, volunteering at a local lesson barn and a therapeutic riding facility.
While studying at Colorado State University, Taylor was a dedicated student and passionate horsewoman. While completing her Bachelor's Degree in Equine Science with minors in both Business Administration and Spanish, she took advantage of every possible opportunity to work with young horses. In 2012, she worked as an intern for AliBoo Farm in Illinois where she learned more about the breeding and training of hunters and jumpers.
Throughout Taylor's college career she participated in the CSU Legends of Ranching (LOR) Performance Horse Sale. As a part of sale preparation, students train a young horse from the ground up and show in a student-only competition. In 2013, she and her filly placed 7th in the competition. For the 2013 and 2014 LOR Sale, Taylor started two more young horses, served as a Teaching Assistant, and worked as a student staff member in the Equine Science Department. She was responsible for giving demonstrations, helping students start and train their horses, as well as contacting sponsors and taking care of event-day logistics. As a significant part of completing her Bachelor's Degree with Honors, Taylor took on the task of creating a new Horse Training and Sales Preparation Guide and DVD for the LOR students. The book and video series are currently used by the sale preparation students at CSU.
While at CSU, Taylor also had the opportunity to attend clinics and work with many acclaimed trainers including Buck Brannaman, Julie Goodnight, Greg Best and more. In 2015, she traveled to Spain where she met Ruben Parriego Romero. There she had a fantastic time riding his young stallions and learning some of Ruben's at liberty techniques. Now working at Rancho Corazon, Taylor is responsible for the management and starting of all of the young horses in addition to managing the breeding program. In October 2015, Taylor traveled to Germany with the McElvain's to attend the Verband Holsteiner Stallion Approvals and Auction, gaining valuable knowledge about bloodlines and the current breeding and sport prospects. Because of her experience in a variety of equine disciplines, Taylor has a unique and well-rounded approach to working with the horses at Rancho Corazon.